Description
Aluminum trailers side board 3300x120x25mm
IMPORTANT!  Available ONLY by LOCAL PICK UP, due to very long size.
Secification of aluminum trailers side board:
Material – aluminum
Size: 3300x120x25 mm
weight: 6 kg
A-type profile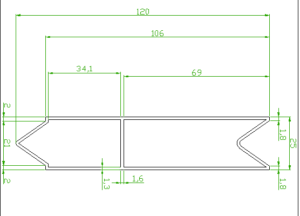 Why is it better to use aluminum boards?
The main advantages of aluminum side boards and typesetting boards are:
boards are connected to each other with end locks that do not require additional fasteners; the required board height is achieved by a set of aluminum boards;

possess increased resistance to corrosion, as a result of which they have an almost unlimited service life;

strength and rigidity of the structure combined with low weight; • ease and reliability in operation and aesthetic appearance;

fire safety; • injury safety during operation;

fuel economy (due to low weight compared to a wooden board);

for the convenience of loading and unloading, it is possible to remove the racks of the sides of the platform, as well as fold back only part of the side;

aluminum trailers side boards or boards will not lose their presentation over time, and will always look like new.
European Standards
Transport units, vehicles and swap bodies, should meet the requirements in accordance with the European standards EN 12642, EN 12640 and EN 283.
May curtainside trailers build under requesrement of EN 12642 XL. Therefore it is important that side of the trailer has all set of boards. Boards must be equaly destributed amont the side of the trailer.
Side walls – EN 12642 XL
If the side walls are built in accordance with EN 12642 XL the side walls are able to take up 40 % of the payload (0.4 P) uniformly distributed over the full length and up to 75% of the height. The design acceleration sideways is 0.5 g. Thus, if the friction factor is at least 0.1 the side walls are strong enough to withstand the sideway forces. Note that curtain sides should be used with care if the forces from the load are not uniformly spread out over the sides.
Safe Transportaiton!